Chocolate Chip Cookies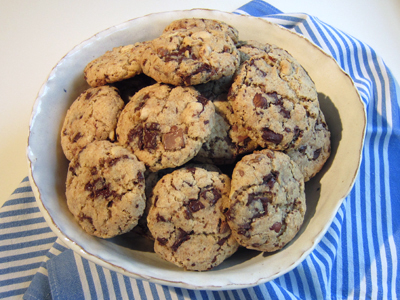 I know, this is probably your fiftieth chocolate chip cookie recipe, but it is really a special one! There is, in fact, a famous story behind this "expensive" recipe and I'm sure you've received it by e-mail before, probably various times. I guess, for copy-right reasons, I should not go into further details, but this is it, this is the chocolate chip cookie recipe!

Ingredients (makes a lot of cookies - the recipe may be halved!):
4 cups flour
5 cups oatmeal
2 teaspoons baking soda
2 teaspoons baking powder
1 teaspoon salt
4 eggs
2 cups butter (= 3 sticks)
2 cups brown sugar
2 cups sugar
2 teaspoons vanilla extract
24 ounces semi-sweet chocolate chips
1 8-ounce Hershey milk chocolate bar (chopped)
3 cups chopped nuts
Preparation (40 minutes plus 10 to 15 minutes baking time per sheet):
1. In a large bowl, mix the first five ingredients (flour through salt).
2. Combine the eggs and the butter and beat until creamy. Add both sugers and the vanilla extract and mix thoroughly.
3. Combine the flour mixture with the butter-egg-sugar mixture. Mix the chocolate chips, the grated Hershey bar, and the nuts and add to the dough.
4. Scoop bits of dough with a teaspoon, roll two scoops into a ball and place dough balls two inches apart on a cookie sheet. For flatter cookies, you can flatten the dough balls a little, if you want to. Bake for 10 to 15 minutes (depending on ball size) at 375 degrees.
Don't worry about storage, these cookies are just too good. Have one and another one and another one and ... another one ... enjoy!